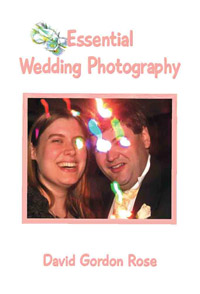 Essential Wedding Photography
In preparation and scheduled for Winter 2017 publication is the copiously illustrated Essential Wedding Photography. It will be Book Two in my Really Useful Books large format of 170 mm x 244 mm. The paperback will be printed in mono but the e-book will be in colour.
Every aspect of photographing a wedding is covered in the book. It includes sections on what photographs are expected by the bride, groom and family and pictures they might not know they should have. There are pointers to what the photographer should be talking about with prospective clients at Wedding Fairs, including picking up on what they are worried about. The book progresses through a typical wedding day from informal shots of the bride and bridesmaids (and groom and his entourage) getting ready at the beginning of the day, through to the celebrations at the end of the evening.
You need to be one step ahead of the order of events, particularly with when and where you should be positioned. Be under no illusion, wedding photography is not an easy photographic option. Be aware also the actual photography on the day is only half your work. You may have taken a thousand pictures (if you're a masochist) and will need to be efficient in organising the pictures and in processing them ready for printing. There are tips on the tweeking your pictures will probably need.

The book doesn't cover peripheral things such as wedding albums, literature, contracts, flowers, vehicles, couture or photographic equipment. Just the pictures.

It doesn't matter how experienced the photographer, if he or she has not photographed a wedding before, many of the required and later treasured shots will be missed. Here are some examples:
Outside the church watch for bride or groom brushing confetti away, or straightening of veil or cravat. It's a nice first marital act. You could even stage it.

Make sure the husband helps his bride into the car after the reception. Many (usually young) grooms have not learnt this bit of gallantry! Don't photograph him stooping either - it looks submissive.

Before the first appearance of the new Mr. and Mrs. at the reception, look at where they will enter and the path they will take to the top table. Stand on a chair mid-point so you can take quick shots in succession of the couple, clapping guests and their arriving at the centre of the top table.

Get the help of someone with a loud voice for rounding up family for group shots. This is not necessarily the Maid of Honour or Best Man.

Photograph as much as you can in quiet moments including flowers, place settings, the all-important card with the first instance of the bride's new family name, the cake knife, table-settings diagram, starter course (untouched), the bridesmaids' presents, children playing peek-a-boo and so on.

There are a half-dozen must-have shots at the speeches. Tearful Dad and daughter looking at each other ... toast to Dad for his generosity ... groom's discomfort at what his Best Man is about to say ... ladies in attendance receiving presents from the bride ... the list goes on and on.

Weddings are daunting but are conquered picture by picture. The challenges are less as you gain more experience. Aim for mastering tricky situations (particularly in lighting) to become second nature. Lighting is the prime consideration. The lighting of a subject is, after all, what photography is about.
Here are four pictures and brief comments. I cover many more aspects in detail in the book.

1. Technique, especially in lighting. 2. Examples of weddings details and how to frame them. 3. Moments to capture with the bride and groom. 4. Grouping.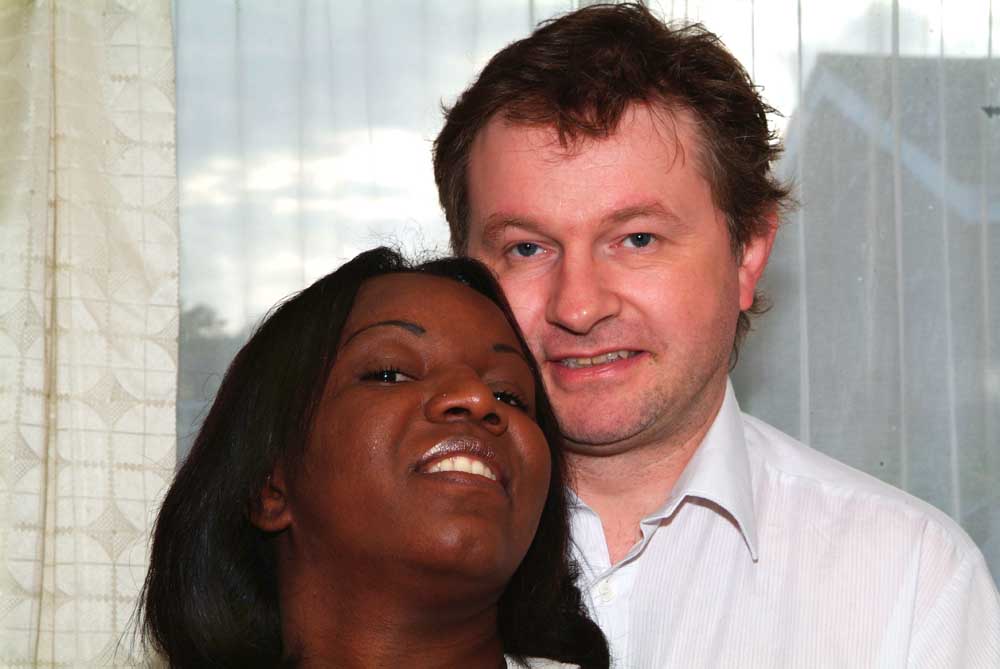 1. Technique
Here, the light background, bright sky and fill-in flash helped the camera meter Ian perfectly, leaving Yvonne underexposed. Her face details were hardly visible. This is what an informal pre-wedding shoot is good for sorting.
To correct it later I used the Dodge Tool (drop shadow square brush, size approx. 250 px, Highlights 5%) and brushed Yvonne's face avoiding edges and brighter areas. You can see I lightened her nose and left cheek too much. Use the same brush on her hair with Midtones 5% but not too much or her hair will start greying. Reduce the cyan+black on the Reds in Selective Colour. Not too much that Ian becomes pale.
In summary, expose the main picture correctly, dodge Yvonne, reduce reds.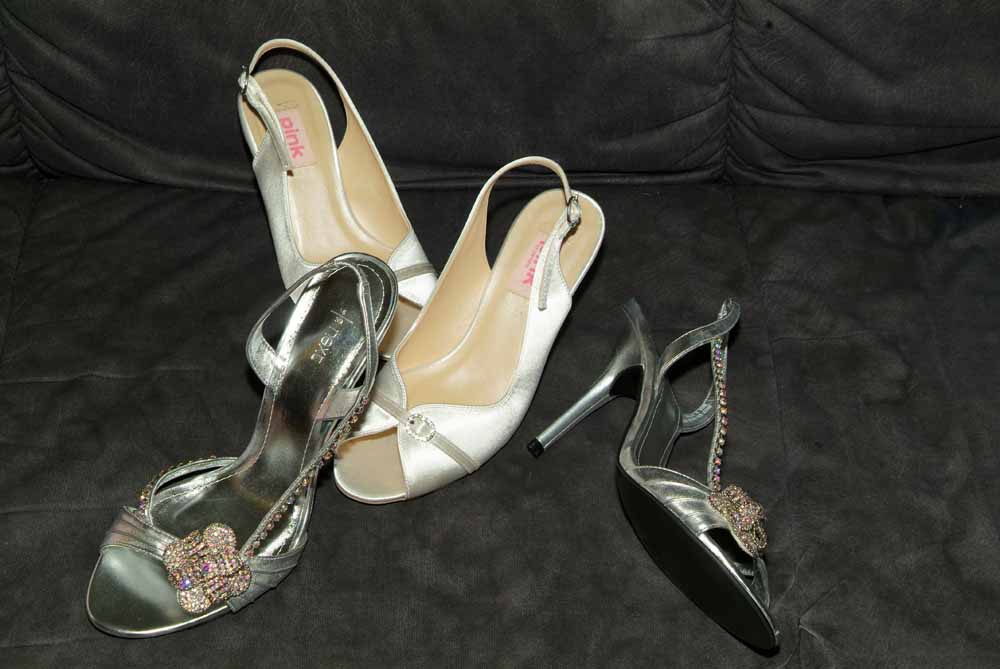 2. Details
Don't forget the details! A lot of thought and research goes into the detail. You can photograph much of it in quieter moments. If you can find time time to have a drink or chat, you are not doing the job properly ...
At this wedding I photographed shoes as they had been left on the bed, button holes, bouquets, wedding cards and a bottle of champagne on the kitchen table while waiting for the bride to dress. If you can get close-ups of the bride's jewellery and gifts to the bridesmaids and ushers before they are wrapped that is also good, otherwise don't forget presentation time and a peek at the gifts as they are opened, hopefully with wide-eyed appreciation.
Preliminaries also include the bride and/or bridesmaids getting ready if they permit this. Don't forget dress and hair details and fitting of tiara and veil.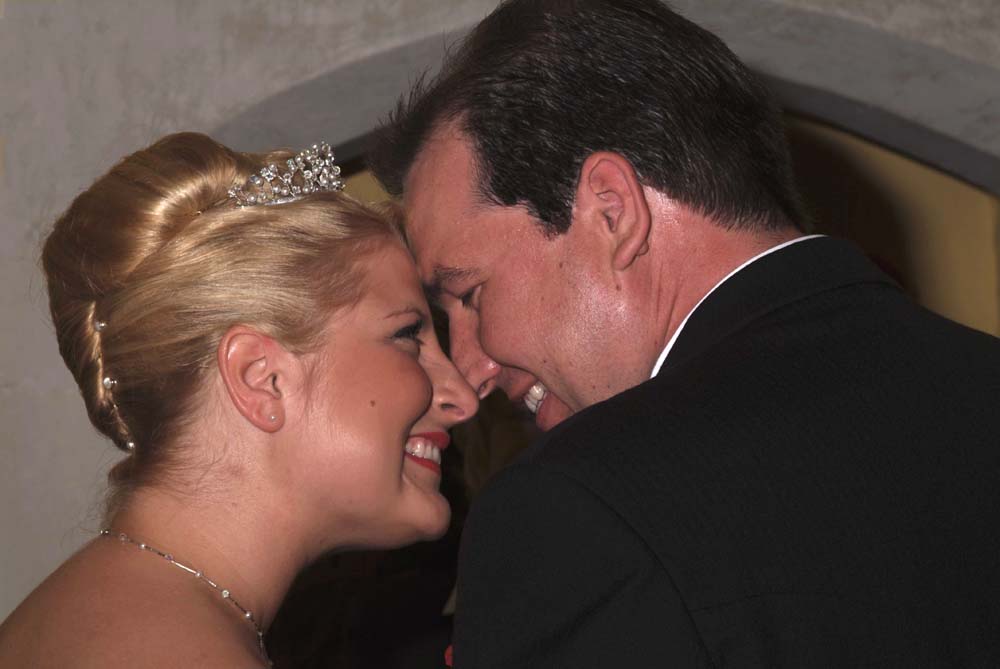 3. Moments
Moments specific to the couple are nuggets. They include catching the Registrar handing the marriage certificate to the bride. Vicars rarely do this, female registrars always do.
After the throwing of the confetti, the bride picking confetti off her husband's lapel is a good one, a first "wifely duty." It could also be the groom removing a piece of confetti from his wife's hair, or cleavage.
During the meal when they are a little more relaxed, catch them whispering to each other and/or making a discrete toast. If it doesn't happen, set it up. All moments of adoring looks are good for the tone of the album.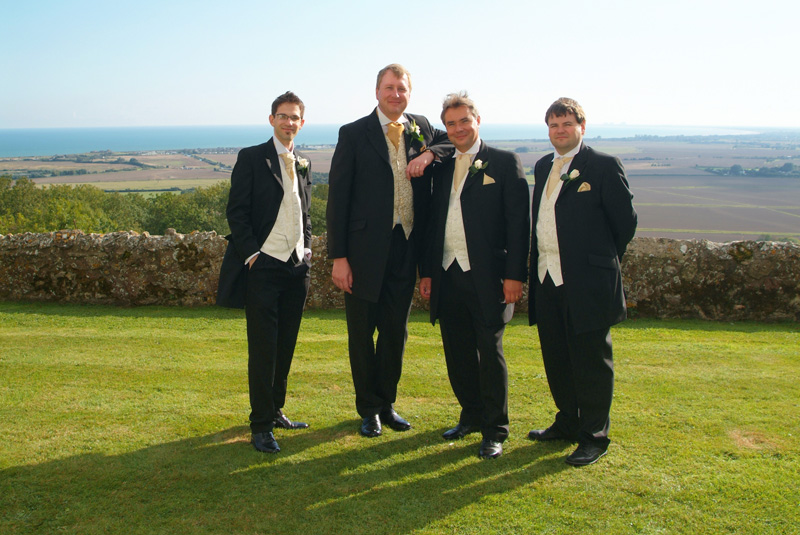 4. Grouping
The bride or groom will not necessarily have a clear idea of how they want the group shots done and will leave it to you. Some formality is required and this is usually helped by a grander setting.
One bride was wondering why I was requesting help in making sure I got the relevant family members in. Her mother told her the group shots were the ones she would be looking at in years to come. I have also been thanked after a wedding for paying particularly attention to older family members. It goes without saying they may not be around much longer.
If a groom wants to stand nonchalantly on a table, hands in pockets with his groomsmen seated around the table. Why not! Look for dynamism, interaction, between the characters. Simon spontaneously leaning on his Best Man's shoulder here was perfect.
You get the idea of how much there is you need to know! Read the book and you're halfway there.