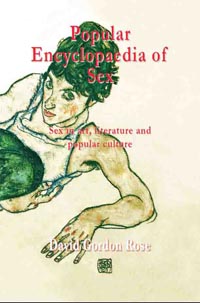 Popular Encyclopaedia of Sex: Sex in art, literature and popular culture
Do you know the meaning or significance of:- anal felching, bad boy syndrome, camp names, bicycle dildo, eco-sexual, female ejaculation, grinder, handkerchief code, impotence, Jezebel, Kinsey, lindinism, metrosexual, nappy house, onanism, priapism, quickie, Rubenesque, seagulling, tryst, up-skirt, Viagra divorce, witan, x-rated, YouTube and zoophilia?

My database currently has more than 2,800 headwords interlinking every aspect of sex. There will be at least 100 illustrations (mostly vintage photographs). It is an ambitious project and will probably be the third title in my Reference series format of 170 x 244 milimetres (6.69 x 9.61 inches).

This work is a comprehensive, informative, horizon-broadening examination of sexual matters. It is factual, humorous, historical, provocative and occasionally erotic. Material is drawn from sources including academic, anecdotal, literary, film, the Internet and popular culture. The book is recommended reading for young adults upwards. Read it, you will be enlightened!

Through Createspace I am limited to 828 pages in this book size and the first edition of the encyclopaedia will probably be published as a single volume.
Popular Encyclopaedia of Sex: Sex in art, literature and popular culture
merkin
Women are more likely than men to be concerned with the greying or disappearance of their
pubic hair

. One middle-aged woman lamenting the change thought merkins should be available as any other fashion accessory. Her friend, innocent even to the notion of a pubic wig, conceded that since men regarded women as 'triangles' hers could be fluffed up a bit.
Vonk Schaamtoupetten in Amsterdam states on its web site that its pubic toupees are "wild, fun, a fashion statement and not about replacing pubic hair." Merkin World in London offers a made-to-measure range of modesty coverings that include hearts, a strawberry, bulls-eye and Stars and Stripes. It also customises these
erotic

garments to include, for example, company logos. As merkins are generally worn against bare skin in an

erogenous zone

the company will line them with material of the customer's choosing.
A similar garment made of monkey fur or black wool and known as the
Chicago G-String

appeared in Chicago burlesque (the forerunner of

striptease

) in the 1930s. It was made famous by Margie Hart who was eventually tried for

obscenity

in 1942. Variations of this garment were made in New York through the 1940s in ermine, mink, gold and silver lamé and were even decorated with rhinestones (Shteir 2004).
There continues, then, an element of the theatrical about pubic wigs whether covering
penis

or

pudenda

, replacing lost or removed hair or drawing attention to the wearer's sexuality, as the

fig leaf

in some periods of art. Merkins seem not to be employed in striptease as the last covering of a naked pudenda. Bold young women edge closer to this liberation, reportedly clubbing in

Baby-Doll

dresses with merkins beneath. No panties, that is, just the attachment taped or glued to skin or

pubic hair

(Merkin World).
In Shakespeare's day when propriety forbad females on the stage, a merkin might have been shown in
bawdy

scenes of lifted skirts on the male actor. The word does not appear in the works of Shakespeare (d. 1613), or his contemporary Marlowe. In 1635, in James Shirley's play The Lady of Pleasure, Juliette, fresh from a Venetian

brothel

describes a decorative painting there in which one of the

prostitutes

has lost the hair from her "whib-bob" and is wearing "a huge black beard instead of a merkin." In

Sodom and Gomorah

of c. 1680, a character named Virtuoso is a "Merkin and

Dildo

maker to the Royall Family". This

rude

satire on the excesses of the court of Charles II was probably written by John Wilmot, Earl of Rochester, the "Boloxinian" of the title page.
The origin of the pubic wig, it seems, is both venerable and
venereal

. Removing pubic hair helped prevent

crab-lice

infestation and showed a

prostitute

was free from

syphilitic

sores and

gonorrheal

warts. They were also used to mask evidence of advanced

venereal disease

. They may even have been used for fun.
Tawdry

American

sex films

of the 1950s were often shot in three versions because sensibility varied from town to town. These were with the actresses fully-clothed, in net

underwear

and most daring, with merkins of flesh-coloured panties with hair on the front (Shteir 2004). In films today where nudity is not contractually permitted, actors don such garments so that very brief 'nude' shots allay prissiness. Where no such criticism can be directed but where an actress's

Brazilian

trim was inappropriate for a film about

Swinging '60s

London, it was the computer that did the cover-up by thickening her pubic hair (The Mirror, 28 July 2008). I assume care still has to be taken in the US in 2009 with regard to

censorship

when World of Wigs in California has the words 'Chest Hair' written by hand on a photograph of its "extremely natural looking" model, "Merkin".
The word is also used to describe the man, or husband, of a woman whose
homosexuality

he is the cover for.
wedding speech

A wedding oration or celebratory speech on formal pairing must always have contained humour and sexual suggestion beyond the required social mores. In South-west China the maternal older brother offers the moral teaching on matrimonial occasions. His speech will contain three themes; monogamy (never admire or touch the knife or cloth-bag of another man or woman), a life-long commitment (don't even think of divorce unless you can swallow and excrete in its full form the bamboo table and ritual candles), and a harmonious relationship (drop a quarrel at the end of a field rather than take it home) (Du 2002). In Greece by the first century BCE, two types of wedding orations had been defined. The gamelios or epithalamios on the nature of marriage and the less formal kateunastikos delivered at the bridal chamber. These included praise of the couple and their families, discussion of the institution of marriage and exhortation to bear children (Porter 2001). The literary tradition of the wedding poem was continued by the Latin poets.
In modern American and British weddings the oration is delivered in the form of a ritualized speech and is required of the father of the bride, the groom and the groom's best man. This last could be fine-tuned for a year and dreaded by the groom. It is a balancing act between the light-hearted embarrassment of a life-long friend and heartfelt congratulations to the wedded couple. Reference to sex is usually toned down. Here are four examples related by a wedding photographer.
"Fornication …" began the best man loudly. He adjusted his glasses and started again. "For your information …" Having grabbed the party's attention he went on, "they say a Best Man's speech should last only as long as it takes the groom to make love, so on that note I bid you good evening ..." and pretended to put his notes away. The normally unphased groom, manager of a large department store blushed deeply.
"Now that Martin has tied the knot of respectability I am asking that any of his former girlfriends who have a key to his apartment return them now …" to which a succession of ladies (including a woman in her 80s, to the great delight of the party) trooped up to the top table with keys.
"When I spoke to the vicar at lunchtime," began the best man, speaking of the straight-laced clergyman who had married the couple, "I asked him what he thought about sex before marriage. He looked at his watch and said 'it's alright by me, as long as they're not late for the service …"
The tone is not always jocular. At one wedding with uncomfortable undercurrents a brooding, inebriated best man rose unsteadily to his feet and pitched in with "my best mate has married this slag …" It prompted a brawl and trashing of the top table.